State-organized hacktivism is an increasingly popular form of cyber operation that has been used by governments to achieve political goals. It is a type of cyber attack that is used to disrupt communications, gain access to sensitive information, and influence public opinion. This article will explore the history of hacktivism, its advantages and disadvantages, and the ethical implications of its use.
A short story of Hacktivism
Hacktivism is derived from combining the words "hack" and "activism". The term was first coined in 1996 by Omega, a member of the hacker group Cult of the Dead Cow. Hacktivism is the use of computer-based techniques such as hacking as a form of civil disobedience to promote a political or social cause. The original "hacks" are mostly harmless pranks and practical jokes perpetrated by students in early artificial intelligence labs.
Hackers soon began to use their skills to protest censorship, launch cyberattacks against governments, and promote awareness on social issues. Types of hacktivism include anonymous blogging, DoS and DDoS attacks, and web defacement. Catalyst events such as the Church of Scientology files copyright infringement suit against YouTube, Tunisia censors WikiLeaks, Egypt anti-government protests, are all examples of hacktivism. The "Anonymous" group has been for long the perfect example of Hacktivism.
Anonymous is a decentralized international activist and hacktivist collective and movement primarily known for its various cyberattacks against several governments, government institutions and government agencies, corporations and the Church of Scientology. Anonymous originated in 2003 on the imageboard 4chan representing the concept of many online and offline community users simultaneously existing as an "anarchic", digitized "global brain" or "hivemind."
The group's philosophy offers insight into a long-standing political question that has gone unanswered with often tragic consequences for social movements: what does a new form of collective politics look like that wishes to go beyond the identity of the individual subject in late capitalism? Anonymous members (known as anons) can sometimes be distinguished in public by the wearing of Guy Fawkes masks in the style portrayed in the graphic novel and film V for Vendetta.
Dozens of people have been arrested for involvement in Anonymous cyberattacks in countries including the United States, the United Kingdom, Australia, the Netherlands, Spain, India, and Turkey. Supporters have called the group "freedom fighters" and digital Robin Hoods, while critics have described them as "a cyber lynch-mob" or "cyber terrorists."
Hacktivism and the Russo-Ukrainian war
A new strain of hacktivism began about two years ago, with several hacktivist groups such as Hackers of Savior, Black Shadow and Moses Staff, which focused exclusively on an attack on Israel. For the most part, they have made no secret of their adherence to the Iranian regime's anti-Israel rhetoric. Meanwhile, several other groups in the Middle East, the most prominent being Predatory Sparrow, have focused solely on attacking pro-Iranian targets. Their only common interest is opposition to the Iranian regime.
The geopolitical purpose that has mobilized hacktivism is not limited to the Middle East, but is also a key component of the Russian-Ukrainian war. Starting in early 2022, the Belarusian cyberpartisans group formed in 2020 to counter the Belarusian government began launching destructive cyberattacks to thwart Russian troops transport system.
The Russian invasion of Ukraine has sparked a surge of volunteer hackers, or hacktivists, battling on the digital frontline against one side or another. Hacktivism is highly influenced by geopolitical and political conditions, and the Russian invasion of Ukraine is no exception. There is a significant increase in hacktivist operations since Russian forces crossed into Ukraine, with novel approaches to organizing and attempting to circumvent obstacles.
This includes the creation of an "IT Army", a Ukrainian government-sanctioned group of hackers, as well as a resurgence of the Anonymous collective. The attacks are designed to disrupt Russian operations and spread awareness of the war in Ukraine. IT Army of Ukraine was formed within days of the start of the Russian invasion and has gathered skilled volunteers from around the world to operate under Ukrainian mandate.
IT Army of Ukraine has a large number of volunteers from around the world working to coordinate DDoS attacks against Russian targets, and a team working at more advanced levels, likely consisting of Ukrainian defense and intelligence experts who can conduct more complicated cyber operations against specific Russian targets.
This new hacktivism also saw the emergence of groups that supported the Russian geopolitical scenario, with groups such as Killnet, Xaknet, From Russia with Love (FRwL) or NoName057(16).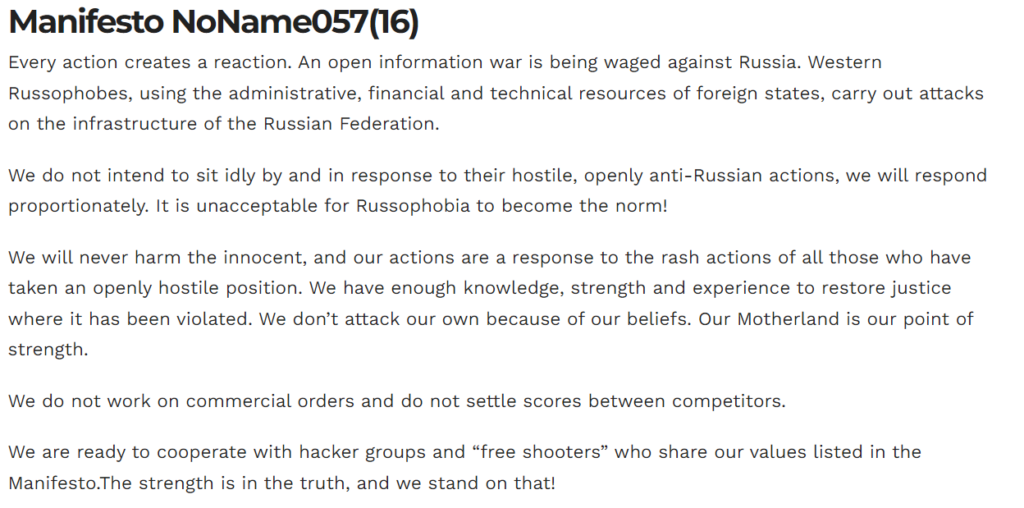 The group has a genuine pro-Russian agenda and regularly targets Ukraine, while expanding its focus. In recent months, NoName057(16) has targeted the many European Union countries that have publicly supported Ukraine, such as Poland, Lithuania, Latvia, Slovakia and Finland. NoName057(16) also attacked the website of the Finnish Parliament in August, after Finland expressed interest in joining NATO.
Another collective that follows the same state protocol is From Russia with Love (FRwL). This team has not been in the spotlight much, but they are responsible for broadcasting confidential information on their Telegram channel and declaring attacks against Russia's opposition. Reportedly, they have acquired data regarding Estonia and Lithuania by going through the Ukrainian Security Service's Telegram networks. FRwL has joined the offensive against Lockheed Martin and its subcontractors that are producing
HIMARS
, which is provided to Ukraine from the US. Supposedly, they have cracked Gorilla Circuits too, which is an American firm that manufactures printed circuit boards, and is one of Lockheed Martin's vendors.
Conclusion
Governments can use state-organized hacktivism to support their geopolitical agendas. This includes using cyber attacks to influence elections in foreign countries, disrupt communications, and gain access to sensitive information. It is important for governments to recognize that hacktivism can be used for both good and bad, and to ensure that it is used responsibly.
State-organized hacktivism is different from other forms of propaganda or population influence tactics in that it is a more direct form of control. It is possible for a government to directly control the dissemination of information and disrupt communications in order to influence public opinion. It also allows governments to gain access to sensitive information and potentially exploit it for their own purposes.
State-organized hacktivism is a smart completion or cover for government traditional propaganda and state-sponsored cyberattacks by intelligence agencies. It allows to task willing citizen or partisan with accessible tasks with saving advanced skills of intelligence services for more advanced work.
The ethical implications of state-organized hacktivism are vast and complex. On one hand, it can be used to promote a government's political agenda and to target individuals or groups with whom they disagree to convince them. Just like street talks by political partisan. On the other hand, it can be used to spread false information, which can lead to confusion and panic. Additionally, it can be used to target innocent civilians and to violate their privacy. Finally, it can be used to disrupt communication and gain access to sensitive information, which can have a detrimental effect on international relations.